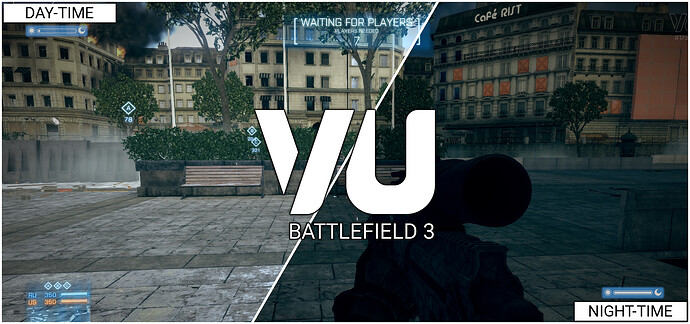 Day & Night
Live change levels lighting during the game to simulate day and night.
About
In battlefield games we experience a environment that changes though destruction. This mod improves this environment change by also introducing level's lightning change and simulating a day-night cycle.
Config
You may change the mod's settings by editing the ext\shared\ticks.lua file. Available options to tweak:
Duration of a full day (default 15 minutes)
Environment update interval on client (default every 1 second)
Server synchronization message broadcast interval (default every 10 second)
Starting hour (default 12am)
Randomize starting hour (default false)
Reset datetime on each level (default true)
Show days on UI indicator (default true)
Show day period (e.g. Morning) on UI indicator (default true)
Download
Check our GitHub for the latest updates.
About
The mod was developed by DarkThanos & GreatApo
This was inspired by the Night Time mod by Reirei.