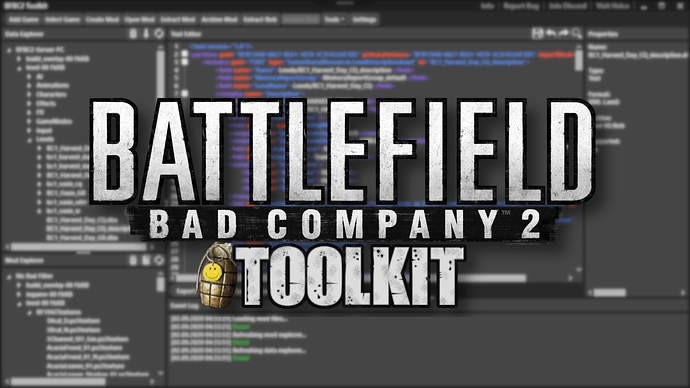 Description
A collection of tools for the Frostbite 1 Engine.
Supports Battlefield: Bad Company, Bad Company 2, 1943 and probably other Frostbite 1 games.
Features:
Game profiles for BFBC2 and its server
Create mods for BFBC2 Mod Loader with a few clicks
Edit .fbrb archives directly similar to how it works with Mod Tools v2/v3
Edit .dbx files with the built-in text editor
Preview textures, videos, heightmaps and several text formats
Convert several game files with BFBC2 File Converter
Port several game files from console to PC with BFBC2 File Porter (experimental)
Includes all the features of Mod Tools v2/v3 and more…
Supported File Formats:
.fbrb - Extract, Archive & View Content
.dbx - Export, Import, Preview & Editing
.binkmemory - Export, Import & Preview
.itexture - Export, Import & Preview
.ps3texture & .xenontexture - Export & Preview (partially)
.terrainheightfield - Export & Preview (16 bpp grayscale image only)
.swfmovie - Export/Extract (for research only)
Files that can be ported from console to PC via BFBC2 File Porter:
.terrainheightfield
.watermesh
.visualwater
.ps3texture & .xenontexture (partially)
BFBC2 Toolkit is completely open source! The source code can be found on GitHub.
Please consider supporting me by reporting bugs, giving feedback, making suggestions or endorsing this mod on Nexus Mods if you like it.
Known Issues
No known issues yet.
PathTooLongException - This is a limitation of Windows and not a bug of BFBC2 Toolkit.
If you find a bug, don't hesitate to report it on Nexus Mods or GitHub!
Requirements
Installation
It's a portable application so just extract the files somewhere safe and execute "BFBC2Toolkit.exe".
I hope that the tool is mostly self explanatory for now. Instructions can be found on GitHub soon.
Feel free to contact me if you have any questions or if you are stuck anywhere.
Permissions
BFBC2 Toolkit is licensed under GNU General Public License v3.0, so the rules of this license apply.
Make sure that you have read and understood the license.
By using the program and/or its source code you accept to the license agreement
If you have any specific questions, don't hesitate to contact me.
My mods are exclusive to Nexus Mods!
Note: Different rules apply to third party content, see …\BFBC2Toolkit\Docs\Licenses or the licenses below.
Credits
Disclaimer
I'm not affiliated, associated, authorized, endorsed by, or in any way officially connected with Electronic Arts or DICE, or any of its subsidiaries or its affiliates. The names Electronic Arts and DICE as well as related emblems, images, marks and names such as Battlefield and Frostbite are registered trademarks of their respective owners.
Game files or any other form of copyrighted materials will NOT be shipped with this tool! Everybody must provide the game files on his own. I do NOT support piracy in any way, so if you face issues, first make sure that you own a legal copy of the game!
BFBC2 Toolkit © 2020 Nico Hellmund is licensed under GNU General Public License v3.0.
No direct download link, you will be redirected to the main page of this mod on Nexus Mods.
Note: Requires an account on Nexus Mods to download which is completely free!